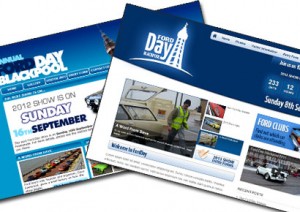 As you may have noticed, we have a brand new website. The old site had been used for quite a while, so we felt it was time to freshen it up a little.
With the new site we hope to bring you more news, from the Ford Day show as well as related articles about Ford or Blackpool. We will also use this site to showcase more photos and videos from previous shows. If you have any photos that you want to share, please Contact Us or visit our Facebook page and share your photos:
Facebook: Ford Day Blackpool.
To help fund the new website, we will also be able to offer advertising space for businesses both local to Blackpool as well as across the United Kingdom. If you are interested, then please contact us via the Contact Us page (just include 'Advertising' into the subject line).