This Friday and Saturday (8th and 9th Feb) sees the 16th North West Stages Rally in Blackpool.
Based in and around Blackpool, such as Preston and Fleetwood, this rally takes place on tarmac stages along the coast as well as at the Trax Motorsport Centre track on Preston Docks. The rally also supports charity organisation, with this years rally supporting Marie Curie Cancer Care.

As well as featuring ex-WRC cars, including in the past a Nissan Sunny Gti-R, Skoda Fabia WRC and Hyundai Accent WRC, the North West Stages also brings a large number of Ford rally cars. With the current seedings showing 21 Fords due to start, this event becomes a must for those that has blue blood.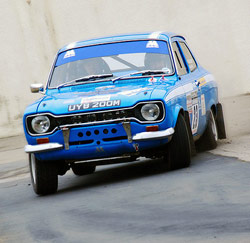 The Ford line up includes plenty of Mk1 and Mk2 Escorts, as you would expect. Other Fords that will pass under the starting flag include a few Escort Cosworths, some Fiesta Sts, some Ford Focus WRC cars and if going by previous years, a rear wheel drive Ford Fiesta.
Obviously this isn't a Ford only event, many other old school as well as modern rally cars take to the popular stages. The usual Imprezas and Evos are present, but you doing also get some interesting metal, such as Metro 6R4s, a Hillman Avenger, Sunbeams and a collection of Landrover Wolf 300TDIs from the British Armed Forces Motoring Association.
As well as the stages on Friday evening and all day Saturday, there is a Rally Village at Norbreck Castle. As well as timing and standings information, you will also find trade stands, a display of Group B rally cars and radio controlled car displays.
So if you have nothing planned this weekend, head over and get your motorsport fix. For more information, visit the official website: nwstages.co.uk.